Capitalize on Japan's Booming Online Casino Market -Elevate Your Brand Now
In the rapidly evolving world of online gambling, the Japanese market stands out as a beacon of untapped potential. With its rich history of gaming culture and a burgeoning digital landscape, the opportunities are vast.
But, success in this market requires more than just a presence; it demands the right strategy, timing, and partnership. Dive into the world of Casino GOD, where we bridge the gap between global casino brands and the Japanese audience, offering an unparalleled platform for success.
The Potential of the Japanese Market
Growth of the Online Gambling Market in Japan
By 2023, the online gambling market's revenue in Japan is forecasted to reach $5.49 billion USD. Furthermore, the annual growth rate from 2023 to 2027 is predicted to be 7.31%, anticipating the market size to touch $7.28 billion USD by 2027.
The online sports betting market alone is projected to be worth $3.58 billion USD by 2023. The average revenue per user (ARPU) is expected to be $594.70 USD in 2023. The number of users in the online gambling market is estimated to grow to 11 million by 2027.
In Japan, only government-operated gambling is permitted. However, there's no law regulating overseas casinos, so in practice, many users from Japan access and use foreign online casinos. As a result, in the online casino industry, Japan ranks fourth globally, following the United States, the United Kingdom, and Australia, with Germany in fifth place.
Deep Dive into the Online Gambling Landscape in Japan
Historical Context:
Gambling has always held a unique place in Japanese culture, with its origins tracing back to ancient times. Traditional games like Hanafuda cards have been popular for centuries, while more modern forms of gambling, such as Pachinko, have captured the hearts of generations.
Pachinko's Influence:
Pachinko, a mechanical arcade game that blends elements of pinball and slot machines, isn't just a pastime; it's a phenomenon. The widespread popularity of Pachinko parlors underscores the Japanese public's affinity for games of chance. This existing gambling culture serves as a fertile ground for the introduction and acceptance of online casinos.
Technological Adaptation:
Japanese society is renowned for its rapid adoption of technology. With the proliferation of smartphones and high-speed internet connectivity, there's been a seamless transition from physical gambling outlets like Pachinko parlors to digital platforms. The ease of access and convenience offered by online casinos make them an attractive option for the tech-savvy Japanese population.
Regulatory Landscape:
While Japan has stringent regulations surrounding traditional gambling, the online casino space operates in a gray zone. The lack of specific laws targeting overseas online casinos means Japanese players can access and play on these platforms without legal repercussions. This relatively lenient regulatory environment, combined with the nation's appetite for gaming, makes Japan a hotbed for online casino growth.
Future Prospects:
Japan's online casino market is poised for exponential growth, fueled by technological advancements and shifting cultural perceptions towards digital gambling. The upcoming integrated resort (IR) casinos in cities like Osaka and Yokohama are also expected to further boost the public's interest in casino games.
Conclusion:
The confluence of a rich gambling history, technological prowess, and a favorable regulatory environment makes Japan a goldmine for online casino operators. With the right strategies and partnerships, like that with Casino GOD, brands can tap into this burgeoning market and reap significant rewards.
Understanding the Unique Dynamics of the Japanese Casino Market
The Japanese online casino market is an enigma, a blend of immense potential juxtaposed with intricate challenges. On the one hand, it's a burgeoning sector with a vast audience, but on the other, it's riddled with nuances that can be challenging to navigate for outsiders.
1. The Language and Cultural Puzzle
Japan, with its rich history and unique cultural fabric, presents a linguistic challenge to many. It's not just about translating content into Japanese; it's about resonating with the cultural sensibilities, understanding the societal norms, and crafting a message that's both clear and compelling to the Japanese audience. Mere translation does not guarantee acceptance; localization is the key.
2. The Gap in Localized Casino Services
Most Japanese individuals, while being modern and technologically advanced, have a limited proficiency in English. This language barrier creates a service gap. There's a thirst for high-quality casino platforms tailored to Japanese preferences, but the supply is minimal. This imbalance presents a golden opportunity for brands that can bridge this gap with precision.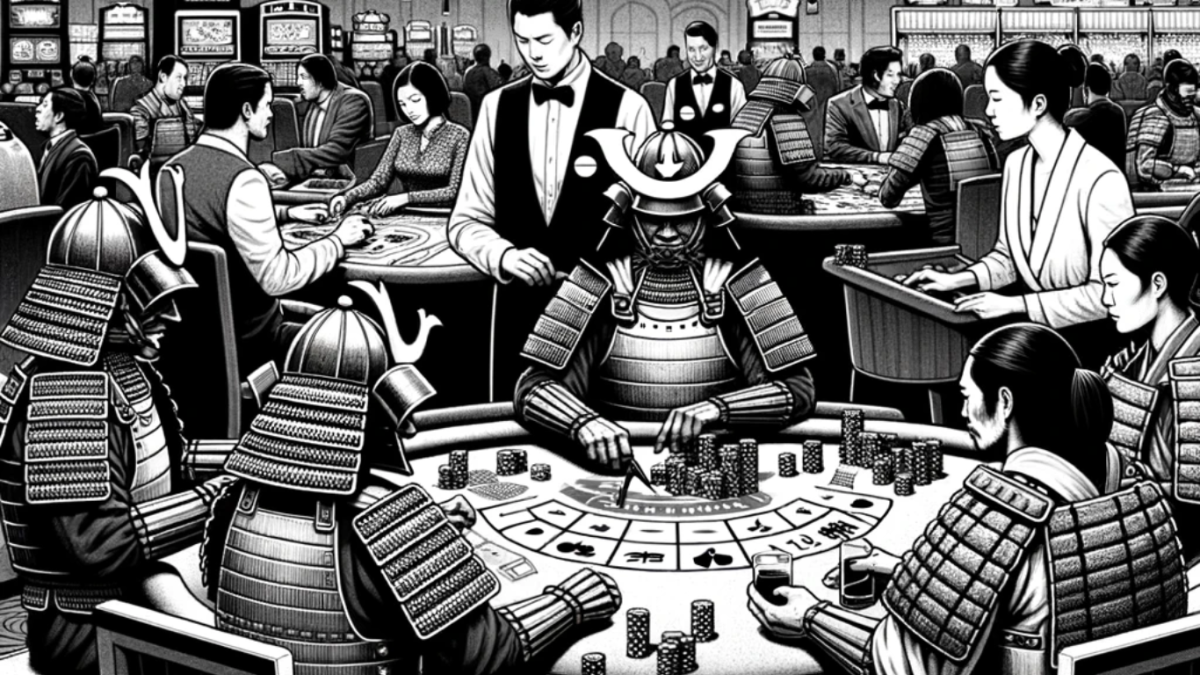 3. Navigating the Regulatory Haze
Japan's relationship with online casinos is complex. While the allure of online gambling is undeniable, the regulatory landscape remains ambiguous. This uncertainty often deters major global players from diving deep into the market, leaving a vast segment underserved.
Why Casino GOD is Your Perfect Partner in this Journey
Recognizing these challenges, Casino GOD was founded with a singular vision: to serve as a bridge between global casino brands and the Japanese audience. We understand the market's pulse, its demands, and its challenges. With our expertise in both the casino industry and the Japanese cultural landscape, we are uniquely positioned to help brands like yours navigate this promising yet intricate market.
The opportunity is massive, but so are the challenges. However, with the right partner, these challenges aren't roadblocks; they're stepping stones to unparalleled success. With Casino GOD by your side, you're not just entering the Japanese market; you're conquering it.
Why Choose Casino GOD for Your Advertisement Needs?
Unlocking the Heart of Japan's Online Casino Audience
At Casino GOD, we offer a unique amalgamation of value, expertise, and opportunity, ensuring our partners achieve unparalleled success in the Japanese market. Here's what sets us apart:
Exclusive Insights from Las Vegas
Our collaboration with top educational institutions in Las Vegas ensures our platform remains up-to-date, offering brands the latest industry insights and trends.
High-Quality Content
Our content resonates, earning trust and respect from a vast audience. This quality not only attracts visitors but ensures they stay, giving brands sustained visibility.
sample images
TOP PAGE
As depicted in the image above, we will soon set up a banner on the homepage titled 'World Online Casino Full List', along with a link to the relevant article (see photo on the left).
AD PAGE
The link will direct users to a list where online casino brands that have opted for a 30 Euros feature are displayed (see photo on the right).
Engage with a Loyal Audience
Beyond numbers, we prioritize quality. The depth of our content has built a community of loyal visitors, presenting advertisers with a unique opportunity for meaningful connections.
A Fresh Perspective
As a recently launched platform, we offer brands a fresh slate, a chance to carve their niche in the online casino world, and be prominently featured on our "World Online Casino List" page.
Exceptional Value
Our competitive annual rate of just 30€ for a prime ad slot ensures brands get value for money, offering significant exposure without hefty investments.
Stand Out in a Crowded Market
We aren't just another online casino portal. Our unique offerings ensure high visitor retention, ensuring brands get the spotlight they deserve.
Expand Your Reach
With the anticipated launch of our 'World Online Casino Full List' banner, brands will benefit from even more visibility, directing users to a list showcasing those who've opted for our exclusive 30€ feature.
Tailored Advertising Solutions
We value exclusivity. Brands that partner with us for the 30€ slot get the chance to explore bespoke advertising solutions, further enhancing their reach and impact on our platform.
In essence, Casino GOD is more than just an advertising platform. We are a bridge to the Japanese online casino market, ensuring brands not only enter this promising landscape but thrive in it.
The True Value of Featuring on Casino GOD - A Breakthrough in the Japanese Market
Challenging the Japanese Market
Many brands aim at the vast Japanese market, but finding success in this arena isn't straightforward. Merely translating a site to Japanese doesn't guarantee standout visibility amidst fierce competition.
The Strength of Partnering with Casino GOD
This is where the genuine value of collaborating with Casino GOD comes into play. Our platform offers specialized information tailored to the Japanese online casino market, captivating numerous fans with our credibility and expertise. By featuring your brand on our platform, you gain direct and effective access to your target readership in the Japanese market.
Exposure Surpassing Competitors
Casino GOD's leadership distinguishes us from competitors. Brands and services that are showcased on our site can maximize their exposure to a specific audience via special advertising spots. Additionally, the trustworthiness of our site enhances the reputation and credibility of the brands we feature.
Conclusion
Success in the Japanese market isn't about mere translation—it's about forging the right partnerships. Collaborating with Casino GOD could be the key to building a robust relationship with Japanese online casino enthusiasts. Let's dispel any doubts or apprehensions on the brink of a partnership and together open the door to newfound success.
Frequently Asked Questions
Q1: How long will the €30 advertising slot be displayed?
A1: The €30 advertising slot will be displayed for one year. Before the period ends, we will notify you about renewing your slot.
Q2: Are there any other promotional options besides the advertising slot?
A2: Brands that choose our €30 advertising slot will have the opportunity to explore additional premium advertising options displayed on our homepage and side widgets.
Q3: Do we need to provide our own advertising content tailored for the Japanese market?
A3: Yes, each brand is expected to provide their advertising content. However, we can check and advise if the content is optimized according to Japanese culture and norms.
Q4: What payment methods do you accept?
A4: We exclusively accept Payz as our payment method. Details regarding the payment will be sent to the registered email after application.
Q5: Do you offer support over the phone?
A5: We apologize, but we currently do not offer support over the phone. If you need assistance, please reach out via email or Skype.
Q6: Is it possible to cancel or modify the advertising slot after contracting?
A6: For cancellations or changes after contracting the advertising slot, we would appreciate individual consultations. Details will be informed via email.
Welcome to the Casino GOD Advertisement Application Form
Unlock Premium Opportunities with Casino GOD's Exclusive Advertising Offer
Dive into the heart of Japan's burgeoning online casino market with our specialized advertising package. As the Japanese online casino segment surges in popularity, we're confident that Casino GOD can provide your brand with unparalleled exposure. Here's a snapshot of what we offer:
SERVICE
Limited-Edition Advertising Slot: Secure a prime spot on our "World Online Casino List" page, available for an exclusive annual fee of €30."Only €2.50 per month! (Billed annually)
Unlock Further Opportunities: Only brands that capitalize on our €30 advertising slot will be privy to additional premium placement options on our homepage and side widgets.
Enhanced Visibility and Credibility: Gain an edge with our industry affiliations and robust SEO strategies.
Rapid Digital Footprint Expansion: Benefit from our status as a recognized Google News publisher, ensuring your brand is promptly indexed and visible.
For applications, please use the form below. For an in-depth overview, refer to the insights shared by our Editorial Team.
Payment Methods
PayPal (Bank, Credit Card)
Crypto (Bitcoin, Ethereum, etc.)
Application Form
Contact:[email protected]
Links:[Privacy Policy], [Terms of Use]
This site is protected by reCAPTCHA, and Google's Privacy Policy and Terms of Service apply.